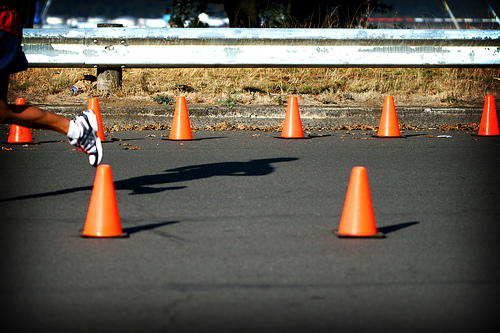 photo credit: John Carleton
I started running back in mid-November of last year. It wasn't my idea initially and I had my reservations about starting up because we were heading into cold, wet, wintry season.
We started the Learn to Run clinic through the local Running Room store. The weather, true to prediction, was crappy. We ran in the wind, rain and in some cases the snow, 3, sometimes 4 times a week. We finished the Learn to Run clinic, and then made the jump to the 10K clinic. And finally, almost 4 months to the day we started to run, we finished running our first 10K distance…followed by completing the Sun Run 10K run with 51,000 other people last Sunday.
What really struck me about running as a sport is that there's a lot of time and money invested in the technology; in the running shoes, the clothing, the post-workout drinks and of course in the gadgets runners use to keep track of their runs.
It didn't take me too long to get interested in the gadgetry specifically; that's the kind of stuff I am really interested in. 🙂 Looking at the various GPS watches and Nike doodads, all of it seems really cool, but seeing as how I have an iPhone that I take with me for playing music while I run, I figured, there had to be some kind of running app that would work with my playlists.
After trying a few apps, I settled on RunKeeper. RunKeeper is fantastic. It has all the features I've been looking for in an app…it allows me to:
associate any of my playlists to the run (aka activity)
set up the workout duration if I want to do interval runs or not
review after the run the pace I ran, by the minute
view the route I ran plotted against Google maps
call out, if I want, the average pace by kilometre or mile
report the number of calories burned
For $9.99 for the Pro version gives you the above features and if you also sign up for a user account with RunKeeper you can also view your completed activities over time. RunKeeper is a fantastic investment if you're looking to utilize your iPhone or Android-powered phone and you don't want to plunk down the extra cash for a dedicated running watch or workout-tracking device.
So are we still going to continue running? We sure are, but we're just not sure if we want to go and make the jump to the half-marathon or the duathalon/triathalon route. We'll see 🙂